Interview with Trudy Montgomery
---
Joyful and uplifting, Trudy Montgomery's vibrant paintings portray an active vitality and freedom of spirit. Working from a meditative state of action, she uses the possibilities of paint to convey in the abstract what is, so often, inexpressible via words.
Q1. Can you share with us a little about your path to becoming an artist?

I came to painting late as I gave up painting when I was 13, comparing myself to my mother, who was already an established artist. I didn't pick up a paintbrush again until I was in my early 30s when, after exploring personal development work in the States, I realised that I wanted to help artists to market their work and be remunerated for their creativity. I became an art consultant, helping collectors source contemporary art from artists and galleries around the world. It was later still that I realised I was looking for a certain type of painting that I would have to paint!
I asked my mother to teach me how to paint, and I started practicing and making a lot of bad paintings. But it was the most fun and most challenging thing I had ever done and I kept going, absorbing all I could from teachers and the artists I had met as an art consultant. Developing one's own style takes time, and the galleries I first approached saw my potential but referred me back to the studio to hone my skills. Eventually, I found my own language and people started asking if they could buy my work to hang in their home. Now I sell direct and through galleries in the UK and US.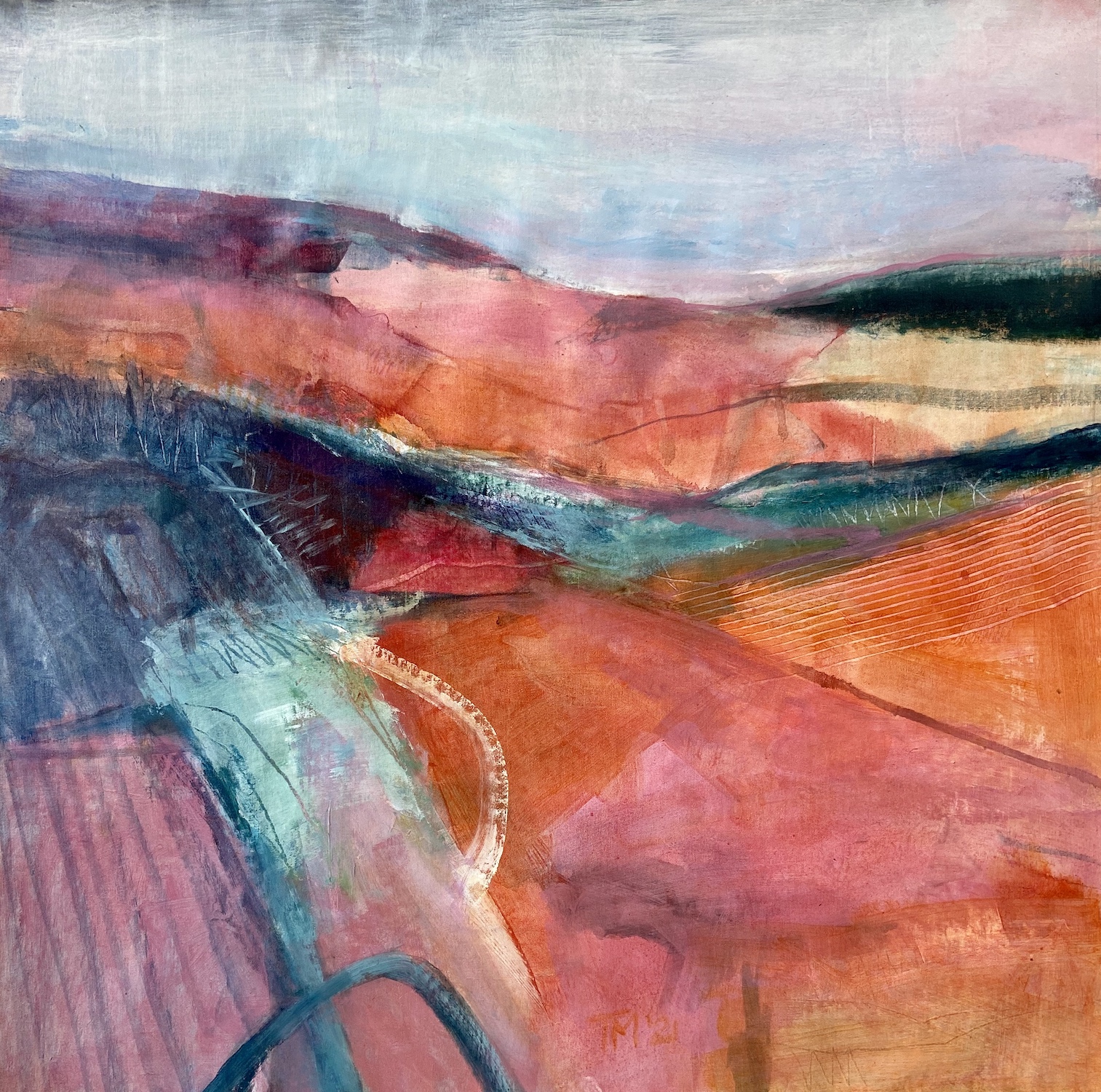 Q2. We understand that you lived in California for 14 years before returning to the UK, where you are now based in Cornwall. How has living in these parts of the world informed your work?

Living in California opened me to a sense of space, which translated into me making very large scale canvases, and my palette became very vibrant and bold. I am very relieved that my palette hasn't become grey or muddied upon returning to the UK. I love using pure, clear colour to express the inner world on canvas. As an art consultant, I looked at a lot of art and was influenced by so many great abstract artists in the US - from the Abstract Expressionists of the 50s and 60s to the large scale aerial landscapes of Richard Diebenkorn and the contemporary gestural paintings of Ed Moses.
My love of the St Ives colourists existed long before I moved to Cornwall. Sir Terry Frost and Patrick Heron, and particularly Sandra Blow have been a big influence, as have Peter Lanyon's gestural aerial landscapes. Now that I live in West Penwith in the very environment that inspired them, I get to interpret the same influences with my own eyes and allow the wide open skies and raw coastal landscape to filter through me and find their way into my own paintings.
Q3. What do you hope that your work will bring to its audience?

For me, painting in the abstract allows one to say things that you simply couldn't in words. The frequency of colour and the energy of gesture, and my emotional state of being that day all impact on the painting. There are times when I paint that I feel all the hairs on my body stand on end, and I know that there's something else at work, helping me to create them. It's this metaphysical aspect that keeps me engaged. There's a lot more that goes into making each painting than meets the eye! So I hope that my paintings leave people feeling absorbed in a point of view they haven't perhaps considered previously. And, ultimately, that they are transformed by engaging with the work — just as I am.
Q4. What 3 words would you use to describe your work?

Colourful, uplifting, spiritual.
Q5. What is a typical day in the studio of Trudy Montgomery?

The first half an hour is the most important - I come in with fresh eyes and look at the paintings I worked on the day before. I make a cup of tea and sit in front of the work to really look and identify how I feel about the paintings I was working on the day before. I pay special attention to the colour and composition, noting what's not working or is bothering me somehow. Usually, but not always, I can see things I didn't the day before. This intuitive feedback sets the direction for the day's painting and gives me inspiration and the impetus to get to work with mixing a palette to continue where I left off. Working on several paintings at a time, I build up layers of paint that may be scratched into, edited or obliterated altogether in a process of discovery in which I seek to 'find' rather than 'make' a painting. Thus, initial sketches have to be abandoned quite early on as the composition evolves. Each decision about colour, which paintbrush to use, which direction and the level of energy of gesture behind each brushstroke shifts the entire image and must then be responded to. It makes the creative process both fun and challenging, sometimes frustrating, but certainly never boring! I paint in silence, without music or distractions. Painting for me is very much a meditative practice as I go in quite deep and there begins a dialog with the painting on a subliminal level. It's also an active process and can be quite tiring, especially as I am usually standing all day, but it's also deeply nourishing and I often lose track of time — a full day's painting can feel like only 5 minutes have passed.
Q6. What are your thoughts on the relationship between art and interior design?

Art and design have a hugely important relationship; living with great art and design is one of life's great pleasures. A house without art, even if the architecture and furniture is amazing, is like a body without a soul. Art changes the energy and the feeling of a home — it can tell a story and transport you to another place; and it invites a certain mood, perhaps dynamic and activating or calming and tranquil. So it's important that the art and the interiors complement each other.
Original art, especially, can really illuminate a space and give it personality. As an art consultant one of my favourite things to do was to find the right painting for a space and its owner, and marvel at how it adds WOW factor to a room — the icing on a cake. It's often one of the last things people think about or budget for, but when art has been considered alongside the interior design schematic from the beginning, the whole space sings and becomes a wonderful place to just be.